July 21, 2021 by Michael Bridgman Leave a Comment
The USDCAD started the U.K. session moving down to test its Asian session low before moving higher to test the 1.2700 figure. As the U.S. session got underway, price moved lower with momentum and a short was taken risking 22 pips for a potential 62 pips to our daily target at 1.2610.
The pair made a solid move lower through our target and we protected our profits by tightening our profit stop with each candle. The trade was closed at the U.K. close as the move looked over-extended. With this pair leaving the trade open after the U.K. close for 2 or 3 hours is fine, but only when it has more room to run than it did today. The pair tends to move the most during the North American session unless oil is very topical.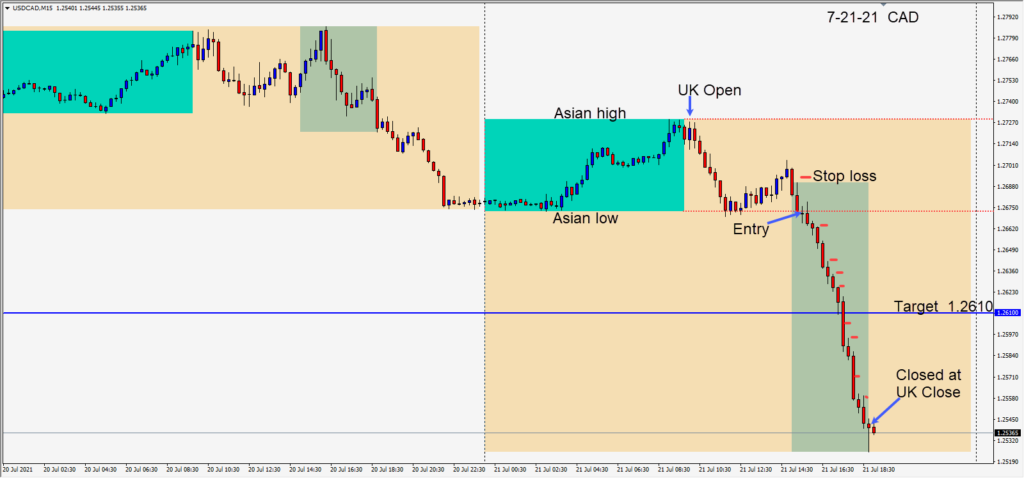 Not surprisingly after the equity sell-off on Monday, the DXY was softer today as equities have now recovered the past two sessions. The test above 93.20 for the DXY is 93.47 and to the downside 92.80 and 92.50.
USDCAD and GBPUSD continue to be the two active pairs in the majors and most fun to trade.
Good luck with your trading!
Reader Interactions